Built this redfish rod on a CB 704-1 NFC blank.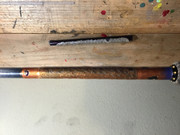 Thats a "belt" of scales from a 16" red dried around a blank mandrel and then glued to the rod blank. I left a live edge. The belt covers about 3/4 of the rod diameter. The "belly" side has an application of gold leaf. The leaf was too smooth for my liking so I applied about 25 small crinkled flakes on top of the sheet while the first coat of tinted epoxy was still wet. It gave more of a textured look.
The epoxy was tinted with various mixtures of VooDoo metallic dust. Colors are Sparkling Rust, Copper Penny, Inca Gold, and Liquid Bronze.
The blue tint on the "tail" is VooDoo Blue Dragon.
For the black spots I mixed some purple and black acrylic then added just a touch of the Blue Dragon. After applying the sizing for the appropriate size spots, I then laid down the gold sheet and brushed away the excess. Next, I painted the "grackle" color over the sheet leaving some of the edges exposed. Lastly. I dabbed a small flake of the gold onto the wet acrylic. Its got one coat of lightly tinted epoxy on it now. I'll probably apply a couple more light coats of clear.
Learned a lot from the videos posted and really enjoyed the process. I don't normally build rods with elaborate artwork. I'll just go back to building the basics with good quality components. After all it is just a fishing rod.
VOODOO RULES!!!!!!!!!!!!!!